Oceania specialises in delivering a quality bus charter service New Zealand-wide, ensuring that your group is transported in style and comfort, and that your expectations are exceeded.
Oceania has the fleet, the expertise and the infrastructure to make every trip a success – whether we are transporting a group of overseas visitors, delivering corporate clients to a conference, leading student groups on a NZ tour or transporting sports teams and their supporters.  We can help.
Oceania Coachlines has established a growing client base of discerning and satisfied customers from around the world – Europe, North America, Australia, the United Kingdom, Japan, South America, China, the Middle East, Hong Kong, Singapore and every place in between.  Our bus charter service allows us to be as flexible as required, while delivering your clients in style and comfort on our luxury tour coaches. Read more.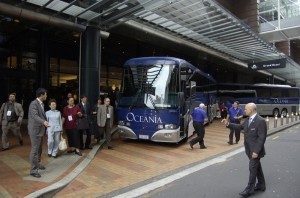 When you need to make a good impression with your corporate group travel requirements, and want to travel in style, Oceania is happy to deliver your group on time, rested and relaxed for any function or conference.  Our professional tour coach service allows groups to travel together in safety and comfort.  Read more.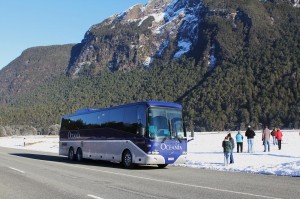 With Oceania Coachlines bus hire, you can travel to that important fixture and get out of the tour coach relaxed and ready for the big game.  We have looked after sports teams and their supporters across a wide range of sports – from rugby, cricket and netball to golf, skiing and basketball.  Read more.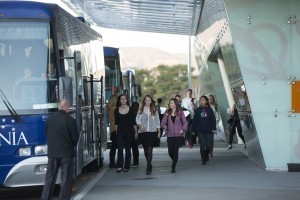 The quality of our tour coaches combined with our competitive pricing has attracted hundreds of student and school groups to Oceania.  We regularly work with leading specialist tour operators from Australia, Japan, Europe, South America, Hong Kong and the United States.  Read more.