Our small 29/33 seater tour coaches are the most sophisticated available in New Zealand.  They have been specially designed for luxury small group travel.  With one less row of seats than other tour coaches on a comparable length chassis, they offer increased legroom.
Oceania's smaller coaches mirror the facilities offered by our larger tour coaches in nearly every respect.  The main difference is that they do not have an on-board restroom and have only one passenger door.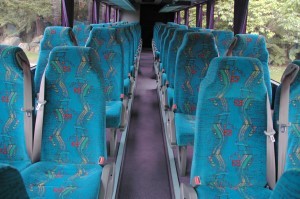 Passenger seats are all equipped with full seat belts and foot rests.  Above each seat there are personal controls for reading lights and air-conditioning.  Luggage racks are available for storing cabin items.  Large UV and heat resistant tinted windows ensure that nothing gets in the way of New Zealand's stunning panoramic views.  Suitcases are stored in large underfloor compartments.
All coaches are equipped with a video monitor.  Entertainment systems include CD/DVD units with full surround sound and microphones for both driver and tour director.  A small fridge is available for cold drinks and medicines.  Our European coaches have powerful engines which easily cope with New Zealand's undulating landscape.  Air-suspension provides a smooth ride and disc brakes plus ABS are fitted as standard for passenger safety.
Most small coaches are fitted with on board Wi-Fi capability. This facility allows passengers to make use of their laptops and smartphone devices while travelling throughout the country for a small charge. Tour Operators have the option of prepaying for the Wi-Fi service in their coach cost so it can be value added feature as part of the tour inclusion.
For the ultimate coach travel experience in comfort and safety, choose Oceania.
21 seaters:
New to the Oceania fleet are these 21 seater Mitsubishi Rosa's based in Wellington and Nelson. These new vehicles are fully seat belted with reclining seats.
Find out more about our services and our team.