Luxury Coaches – Available anywhere in New Zealand 
Our luxury coaches are based in Auckland, Christchurch and Queenstown and can travel anywhere in New Zealand.  If you want to be picked up or set down in locations such as Auckland, Rotorua, Tauranga, Napier and Wellington in the North Island or Picton, Nelson, Christchurch, Queenstown, Dunedin and Invercargill in the South Island, just let us know. We'll be there.
Our fleet of European model tour coaches is fully equipped with luxury design features.  It won't take long for your passengers to appreciate your choice of coachline.  We offer a range of models – from the larger 49 seater latest generation European chassis tour coaches to the  29-seater coaches especially designed for small tour group travel. 
Most coaches are fitted with on board Wi-Fi capability. This facility allows passengers to make use of their laptops and smartphone devices while travelling throughout the country for a small charge. Tour Operators have the option of prepaying for the Wi-Fi service in their coach cost so it can be value added feature as part of the tour inclusion.
The majority of our large coaches are 49 seater latest generation European chassis, each  equipped with an on-board restroom and an extra seat for the tour director.  Complete with kneeling suspension to reduce step-up height, the 49 seater latest generation European chassis has two passenger doors for faster boarding and disembarking. Read more.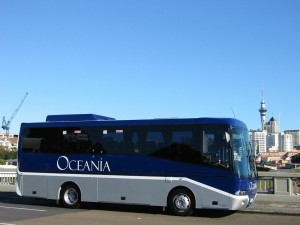 Our small 29/33 seater tour coaches with an extra courier seat are the most sophisticated available in New Zealand.  They have been specially designed for luxury small group travel.  With one less row of seats than other tour coaches on a comparable length chassis, they offer increased legroom.  Read more.